On average, our food travels from 600 to 800 km before arriving on our plates. So it's not surprising that consumers are concerned about its origin. 
We need solutions to encourage the consumption of local products in order to 
support local producers and reduce our carbon prints.
Green local app is a mobile application designed to help people in cities find local products and make sustainable choices helped by local recommendations. 
Create a solution to engage busy families and professionals in their 30s / 40s to make concious choices while finding local products nearby. As well as sharing their findings with the community.
Product Designer ( UX/UI ) 
Product strategy | 
User research |  
Interactions 
Prototypes | 
Visual design | 
Usability testing.
The process used for this project was based in Design Thinking and LEAN UX methologies. 
Discovery -Ideation - Design - Testing
Busy families and mid-career professionals can't  find local groceries in the city. They worry for the planet and their health and would make more sustainable choices if they would have easy access to local product.
If we

give families and professionals fast and easy access to information, the location, and recommendations from other locals...
Then

families and professionals will contribute to the community, shop locally, eat healthier, and help the planet reducing carbon footprint.
In order to validate the mentioned hypothesis,  I have gathered qualitative and quantitative user reasearch to:
 1. Understand if the problem I am trying to solve is the right problem, 
2. Empathize with the users, know their frustation and wishes. 
I began the research by conducting targeted interviews and a user survey in order to learn more about how user experiences local grocery in Rotterdam and if locals are interesting in consuming local products and how often. As well as the level of sustainable concerns. 
I identified 3 groups of potential target audiences:
›   Families with young childrens and working parents.
›   Profesionals in their 30s and 40s that live alone or with their couple and both work full time. 
›   Other locals interesting in improving their way of living and currently shop at eco-friendly stores &    markets.
​​​​​​​​​​​​​
To gather the first survey I targeted the group 1 and 2 using the integrated recruitment service of UsabilityHub. I also interviewed some participants by phone that I recruited via LinkedIn and whatsapp. 
Through phone interviews and online surveys, I learned that people were not completely satisfied with buying eco-friendly products in main grocery shops because they are often over-priced. 

> Some

common frustrations

include not finding sustainable products at the regular online supermarkets but having

no time

to look for further options or do shopping in more than one place. 
> User find a lack of alternatives or difficulties locating local products, and the

high costs of organic, ethically sourced foods in general does not help busy people to make more ethical choices. 
> People want to consume more local
Many people would be willing to consume more local if : 
1. There were competitive product prices, transparency about the company's ethical practices, and door delivery. 
2. Consuming locally does not means extra time and money doing groceries. 
In general, participants wants to adapt a sustainable way of living, worry less about the packaging and waste produced to deliver groceries at their doors, because it saves them time. 
Interviewed participants indicated that they had not yet found an online grocery shopping solution that met their needs, so 50% of participants still preferred to shop at regular supermarket because it is cheaper and faster, plus they can order anything to be delivered at their door. 
However, they would consider easy to use alternatives in other to live healthier, reduce carbon prints and specially to support the locals. 
GUERRILLA INTERVIEWS & DIRECT OBSERVATION
A
T ECO- FRIENDLY SUPERMARKET IN ROTTERDAM
UNDERSTANDING WHY AND HOW PEOPLE SHOP AT ORGANIC SUPERMARKETS
To get more insights on the 3er target group, and learn more about why and how of people who shop at organic supermarkets , I did a guerrilla interview with 5 people on field. 
I wanted to learn more about what they have bought and what they find important in the products that these shops sell, where else do they buy and how do they find their products.  
Takeaways from the guerrilla interview :
1. Consumers prefer to shop for organic products even if they are overpriced.
2. ​​​​​​​35% of consumers don't find alternatives to zero waste in the city or know how to reach local producers.
3. Interviewers think that expending time shopping is not worth it, however they go to the main open market and other supermarkets as well to do combine groceries besides the organic shop.​​​​​​​
The profesional full time working mom 
MARINA BILL | 37 years old | Architec
Motivation:

 She wants the family to care about sustainable practices and wants to educate their children in consuming responsable. Friends recommendations.
Pain points: 

No time to find the right local products. Overpriced organic food comparing to regular supermarket. 
Gain: 

She wants to protect the planet and is willing to buy more local if she has access the products easily and are available nearby or on their way to work. 
The single health-conscious consumer
NIELS VALLS
| 40 years old | Logistic 
Motivation:

 He wants to eat healthier, in a more sustainable way and support local producers.
Pain points: 

The time expended in doing groceries in different shops. Not finding product easily.
Gain: 

He would like to be able to make more concious choose and find more products easier. He wants to quickly see what local options are near him. 
Learning best capabilitites and features from similar solutions. Since m
aps are an important feature for our this solutions so we also researched different products that uses maps. 
HMW & MAP MAPPING  APP GOALS AND DEFINING IA FOUNDATIONS
MIND MAPPING PRODUCT CATEGORIES
I use mind maps to place my thoughts on paper and brainstorm about possible terms or paths users will take in order to achieve a task. In this case, I created a Mind map to define logical grocery categories dedicated to local production. I have compared them also to the main competitors and the next steps would be to test the categories during usability testing and a card sorting session with the users.  
​​​​​​​
THE HAPPY FLOW : "FINDING A PRODUCT"

The main product goals helped me to define different user flows, starting with the primary goal of the app which is to find local products near you. 
Base on Marina, my main persona, I created a user story and designed the happy flow of the app.  
"Marina would like to find local products nearby so that she can do more local groceries and support the local producers".
IDEATION : SKETCHING TASK & FLOWS FOR PRIMARY USER FLOW   "FINDING A  PRODUCT" & "ONBOARDING SCREENS"
LOW-FI WIREFRAMES & PROTOTYPE PROPOSALS FOR 
:
FINDING A LOCAL PRODUCT
RAPID USABILITY TESTING WITH LOW-FI PROTOTYPES
​​​​​​​
In order to gather more insights and validate some decisions at this stage of the process, I have planned rapid usability tests to understand the following.  
Research question:
What do people more commonly want to do after finding the right product?
Test question:
Please select an option of how you would continue to finalized your findings. 
Result :
Go button was chosen by mayority of users. 
Share button is not visible and there is not clear call to action to leave a reviews.
Research question:
Do people find it more convenient to shop directly by category from the home page o through the search tool ? would they only search based on personal recommendations? 
Test question:
Could you do a product search from the home page?
Result :
People would mostly use the search bar but would like to have category suggestions and direct search suggestions based on best recomendations.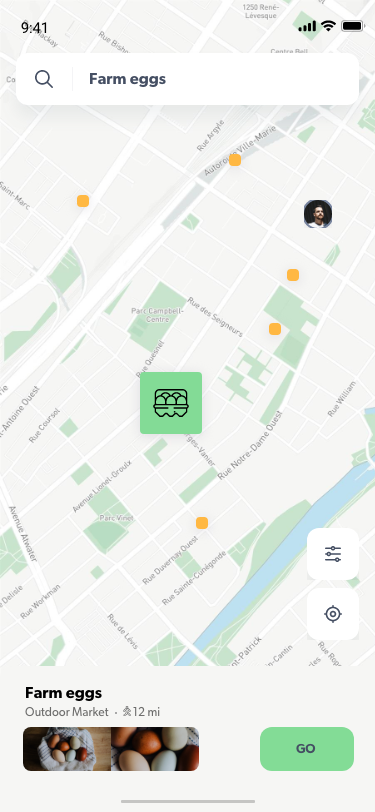 I did a Navegation testing on designs in order to validate search tasks. 
From the Low fi prototype, I learned that most commonly people will search using the search bar, however, if there are a suggestions shown in the map near you, 60% if users won't use the search bar as the first option. 
CONCLUSION

100% Users find the app useful
Users find useful to locate local products nearby in order to support locals and would like to use the app in their way to/from work or picking up childrens from school. 
Search bar is not always the first choice to look for a product
Recommendations and reviews are not engaging enough and need to be reworked.
Next steps : re-define the reviews flows and create new sections.