Find a solution to increase the redemption of passion point online that can improve the transaction rate using credits and help users to benefit from it more often.
The team: Customer relationship Manager, Product Owner, E-commerce manager, external partner developer, UX & Integration designer.
> Increase the passion point redemptions online
> Increase awareness and understanding of passion points benefits.
> Prompts users to spend the Passion Points online as they do offline.
> Help users to enjoy more member benefits from our loyalty program.
> Learn about what users are willing to spend their rewards points online.
Design Thinking - Lean UX .
Research - Hyphotesis - Ideation - Testing - Design 
Empathizing with our main persona: The Shero
Before defining the problem we would like to talk to our users. To understand what customers need and expect from the loyalty program online, and the usage of passions points, we gather an email survey directly to 1000 users from our database based in cities where you can find a HKM store.
The survey objectives
​​​​​​​
The objectives of the survey were to collect insights and feedback from our customers, understand how our current members use passion points online, are aware of it enough, as well as learn how happy are they about their current benefits.
Some questions I asked current members in the survey :
From 1 to 5, How happy are you about the My Hunkemoller membership?
Can you name a benefit you love as a member? why?
​​​​​​​
The last time I used my passion points was...
Do you know how to use your passion points online? How do you use your credit?
How many passion points do you have at the moment?
I always check my credit when...
The lack of awareness on the status of passion points and the unclarity on passion points online usage lead to the expiration of the credit.
We believe that by giving customers easy access to passion points credit online and help users with extra notifications about credit status, then users would by more often.
We will improve the passion points communication and increase the value of rewards through the customer journey. We will support the customer journey with new initiatives via email- app- e-commerce, omnichannel.
We will consider the hypothesis is validated if users can easily use credit online and understand the value of passion points.
I conducted a brainstorming session with stakeholders in order to get into possible solutions to the problem before sketching any suggestions. Before the session, I have also collected some examples from a competitor's analysis and other retail loyalty programs.
How might we help members to use passion points online and integrate 
it better into the 360º Customer Journey?
Looking at the customer journey we brainstormed great ideas to be implemented through the 360º experience. However, at the moment we are going to focus on implementing some steps within the platform and support the experience by other communication in other channels as the app & email.
The most voted top 5 ideas after brainstorming and evaluating the impact vs effort we decided that we will focus on testing the following solutions :
> Show passion points earning on current purchase also if I am not logged in
> Show passion points earlier in the funnel
> Show up to X passion points reminder when landing & repeat after x time
> Passion point visualization in basket
> Highlight or label products I could buy for free with current credit.
LOW FI PROTOTYPES & CURRENT FLOWS
We decided to apply the first solutions in the current user flows.
From the primary survey, we recruited some users, members, and non-members for usability testing. With a HI-FI prototype, we asked our customer to complete some tasks and answer questions about the design and the navigation.
HI-FI PROTOTYPE USED FOR TESTING
THE SCRIPT
& RESULTS
​​​​​​​​​​​​​​
You have been shopping and you are about to complete the checkout. Could you finalize the checkout steps using the passion points?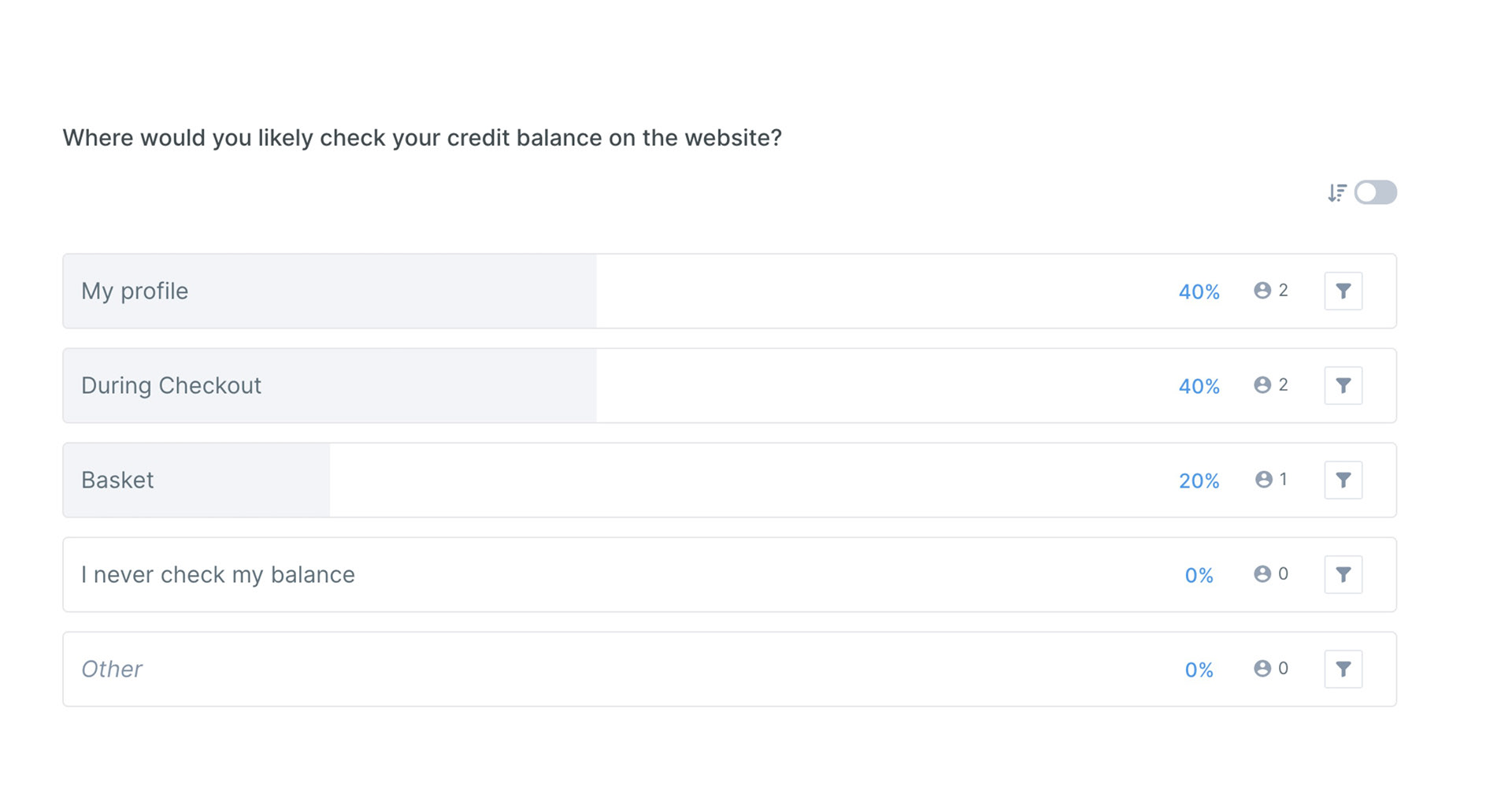 How useful would you find a reminder of credit available?  Why?